The status quo of candle market development in China
As a traditional commodity, the candle is no longer a traditional lighting candle. Drived by science and technology, the candle and its products industry has entered a new field of human beings and formed an industry with huge market potential.
From 2018 to 2020, the export price of the global candle industry dropped from $3.1 billion to $2.98 billion. The top five exporting countries of global candle products are China, Poland, the United States, Vietnam and the Netherlands, among which China's market share accounts for nearly 20%, accounting for 19.9%.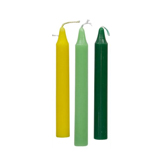 Aoyin xingtang candle co.,ltd
Business Type:Manufacturer , Trade Company , Service
Product Range:Paper Boxes
Products/Service:White Candle , Glass Candle , Tea Light Candle , Led Candle , Tealight Candle , Color Candle
Certificate:CE , ISO9001 , RoHS , GMP , GSV
Company Address:NO.111 xisanzhuang street,, Shijiazhuang, Hebei, China
Previous:
The Aoyin Canldes Live show 2021.3.1 Beijing time: 18:00-20:00!
Next:
After thousands of years of Valentine's Day, don't pass it without this gift candle